Brutalist Calendar 2021 (Wall)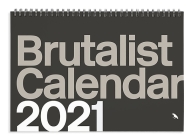 $27.00
Not Available Today...Email or call for expected availability
Description
---
This limited edition monthly wall calendar is a celebration of the some of the most awe-inspiring and influential examples of Brutalist architecture around the world.

Feauturing works by heavyweight proponents of the style, captured by the leading photographers of Brutalism today. Printed on heavy-weight paper, by one of Europe's most environmentally progressive family-owned printers, this calendar will provide connoisseurs of concrete with twelve months of Brutalist bliss.

Includes photography by Nigel Green, Jan Kempenaers,
Stefano Perego, Simon Phipps, Jason Woods,
French+Tye and others.