Messy Paula (Hardcover)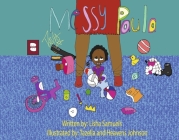 $25.50
Not Available Today...Email or call for expected availability
Description
---
Paula is so messy but is a happy child who loves her mom. Through emotions and actions, she expresses herself and communicates.
About the Author
---
Lisha Samuels, a mother of three, is an Educational Teacher in District 75, Department of Education where she teaches and cares for students K-5 diagnosed with Autism. She was born and raised in Bronx, New York where she obtained a Master's Degree in Childhood Special Education and General Education from Concordia College. Highschool Sophomore 4th Grade Student A song composer and writer
Owner of Indewarrr LLC Publishing Company A Family Publishing Company composed of a team.