Finding God in Ordinary Time (Paperback)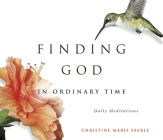 Not Available From Shermans.com
Description
---
Take a wide-eyed look at your life—the commonplace, joyful, and even heartbreaking events—and discover the presence of God, hidden in plain sight. Forget bowing your head and closing your eyes. The secret to prayer is what happens when you're not trying to pray.
This is the invitation of Christine Eberle's Finding God in Ordinary Time. Each daily reflection contains a true story and a nugget of spiritual insight, accompanied by thought-provoking questions and a memorable Scripture quote. Together they reveal a God who is playful and affectionate, merciful and compassionate, and always relevant.  Warm, accessible, and surprisingly funny, Christine offers spiritual nourishment to people skeptical or weary of religion, while still giving the faithful something to chew on.
Simple enough to be devoured in one sitting, this intimate little book is best enjoyed slowly. Each piece deserves to be savored and revisited through the unfolding of each ordinary, extraordinary day.
About the Author
---
Christine Eberle is a passionate explorer of the connections between Scripture, spirituality, and everyday life.  Her 25-year career as a college campus minister has given her countless opportunities to ask her favorite question—Where is God in all this?—and to listen for answers in surprising places. Christine is a church cantor and gifted public speaker, offering talks and retreats; she also performs dramatic monologues of Biblical women.  In person and on the page, Christine desires not only to feed the faithful, but also to offer nourishment to people skeptical or weary of religion. You can follow her at christine-marie-eberle.com.