Fingers: A Piano Exercise Book (Paperback)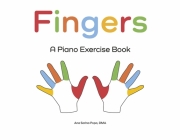 $21.94

Usually Ships in 1-5 Days
Description
---
Fingers is a book of exercises that focus piano playing on finger and hand coordination, using off-staff notation and finger numbers. The fruit of two decades of pedagogical experience, this book teaches in an organized and graded way the fundamental elements of piano technique, taking the young beginner from the first encounter with the keyboard to playing a C Major scale. You will find exercises that teach finger independence, parallel and contrary motion playing, legato and staccato, piano and forte, and a wealth of practice suggestions.

The absence of conventional notation is intentional. The beginning of piano study is full of applications
of information that require young students to make multiple conceptual and physical jumps. Since the best learning strategy is to first separate, practice, and absorb each element and then combine it with the rest, the exercises in this book focus on finger sequencing while using elements that are already familiar to young beginners – colors, numbers, and letters, therefore eliminating the need to combine music reading with intricate finger patterns prematurely.

Apart from where specific notes are indicated, the rest of this material can be played on any keys.

Fingers can be learned as a supplement to a conventional piano method or in preparation to the first piano lesson. Depending on the approach and time dedicated to each exercise, this material can be absorbed in three to nine months. These exercises are appropriate for ages 4 and older.
About the Author
---

Ana Sorina Popa, DMA, is a classical pianist, educator, writer, and presenter with over two decades of experience in piano education. She has benefitted from the instruction of many and is very grateful to have encountered both the rigorous discipline of the Eastern European piano school as well as the freedom of exploration offered by the American approach. While completing her doctoral studies, she became interested in the application of martial art techniques and pedagogy to piano playing in order to maximize
performance and prevent injuries. Since then she has integrated her findings into her pedagogical approach and enjoys teaching them to the new generation.
Dr. Popa is a graduate of the New England Conservatory and Boston University, and a faculty member of several institutions in the Metropolitan Boston, MA, area. When she does not play concerts, teach lessons, workshops and classes, or write articles or books, she is busy gardening and practicing.