Bill Moss: Fabric Artist and Designer (Hardcover)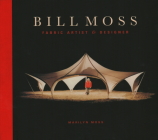 $65.00
Not Available Today...Email or call for expected availability
Description
---
The contributions of Bill Moss to mid-twentieth century American culture were manifold. First changing the world of camping with the invention of the Pop tent, he went on to shake the world of fabric architecture with the many forms that we now take for granted.
This gorgeous book chronicles Moss' creative life from his early years until his death in 1994. Its appeal is broad as it encompasses many aspects of our cultural history—from architecture and design to biography to the complete transformation of the camping experience. Moss, Inc. was engaged in the creative economy long before most people used the term. It was also known as one of the most socially responsible businesses in the country, a reputation that held fast through its sale by Marilyn Moss in 2001.


Traces the life and work of one of America's most innovative fabric artists and designers


Lavishly illustrated with historic photographs


Woven into this tale is the story of an award-winning Maine company, Moss, Inc.


About the Author
---
Marilyn Moss is the former CEO of Moss, Inc. and a freelance writer whose projects include co-authoring the article "Dancing with Democracy," about Malawi, in the Foreign Policy Institute's journal Orbis. Marilyn is currently working on her memoir, From the Appalachian Mountains to the Camden Hills.
Praise For…
---
The
beauty of the tents and fabric structures is simply breathtaking...the book as
a whole creates  an exciting transcendent
aesthetic and intellectual experience for the reader-viewer. It creates
lives  and art all at once.
— Sena Jeter Naslund, author, Ahab's Wife

This is a beautiful publication that portrays
Moss' innovative concepts for portable structures and  celebrates his illustrious life and career.
— Paul Smith, director emeritus of the Museum of Art & Design

One of the great American stories rooted in
the postwar 50's whose triumphs inspire people from all around the world to a
free-spirited, ingenious and eco-savvy way of living and working. In Moss'
example, it's about bringing beauty and innovative technology to the
lightweight shelters that populate our lifestyle and environment.
— Todd Dalland, tent designer and Fellow, AIA